Crafty Gals Corner DT Card Challenge #144
Make It Spooktacular


Hi there,


Thank you for coming by. We have a new Challenge #144 this week at Crafty Gals Corner - the theme is - Make It Spooktacular :-) Come along and join in the fun and we would love to see your inspiration. Our wonderful sponsors are -
Cute as a Button
(Prize- 3 Digital Images)
Star Stampz
(Prize - 3 Digital Images)
Sasayaki Glitter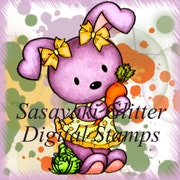 (Prize - 1 Digital Image)
I am using 'Have An Apple' (Digital Digi Stamp) from Cute as A Button. I coloured the image with TH distress re-inkers. I have also added glossy accent to her eyes and black stickles here and there. I used Go Kreate Frilly Rectangle dies for the base card and layers. Papers I used are Pion Design The Witched Hour Collection and Graphic 45 An Eerie Tale collection.